Setting up a membership site on WordPress can be a great way to monetize your website. With the right plugins, you can easily create a members-only area, restrict content, and manage user accounts. I have explored the various WordPress plugins you can use to set up a membership site, and I am excited to share my findings with you.
When selecting a plugin for your membership site, I suggest considering the following factors:
Plugin type: In this article, I will share info about plugins that handle content restriction (members-only content), courses, and more.
Ease of use: Choose a plugin that is easy to set up and use, even if you're not a tech expert.
Cost: Many membership plugins are premium plugins, so you must pay a monthly or annual license fee. How much is in your budget?
Features: Does the plugin support the features you need for your website?
Support: Make sure the plugin comes with reliable support and documentation in case you need help setting it up or troubleshooting any issues.
MemberPress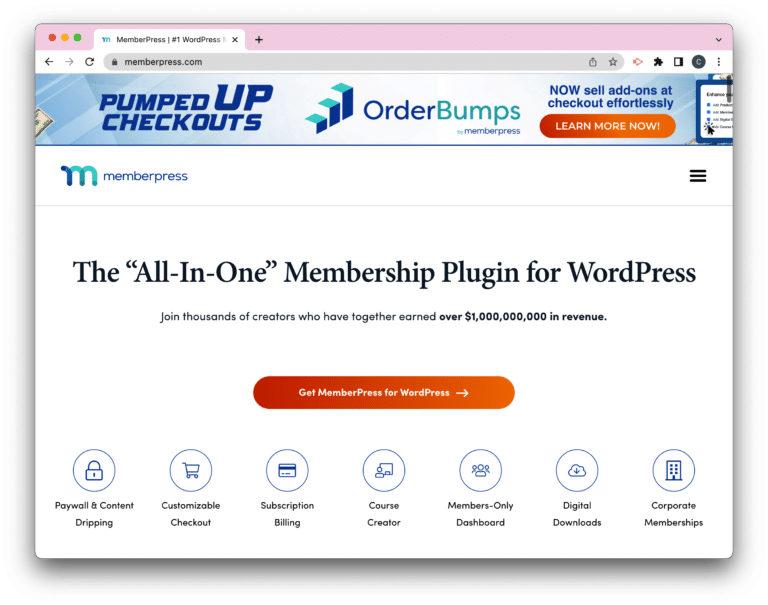 MemberPress is one of the most popular membership plugins available for WordPress. I typically use it for websites that only need memberships and courses that can be sold through a membership (including lifetime access). It offers a range of features that make it easy to set up and manage a membership site, including:
Plugin type: MemberPress is a content restriction plugin, but it has several add-ons that can extend its functionality.
Ease of use: MemberPress offers a simple setup process that makes it easy to get started with your membership site as long as you are pretty comfortable with technology. Creating the membership levels can take some work, but their documentation is excellent, so you should be able to manage.
Cost: As I'm writing this article, a single site license for MemberPress is $359 per year, but they seem to always have a sale, so it might be less.
Features: MemberPress has a lot of great features you can use to create a robust membership site.

Payment options: MemberPress integrates with a range of payment gateways, including PayPal and Stripe, making it easy to accept payments from your members.
Content restriction: You can protect your content with MemberPress, ensuring only members can access it. Protection can be applied to individual content pieces, content types, content within a taxonomy, and more.
Membership levels: You can set up multiple pricing tiers with MemberPress, giving you the flexibility to offer different levels of access to your members.
Additional features: MemberPress has add-ons allowing you to add courses, corporate accounts, downloads, and many other features without purchasing another plugin. It can also integrate with plugins to improve your membership sites, like LearnDash and BuddyPress.

Support: MemberPress has excellent support. I have used it for several sites, and any time I've had an issue, their support team has resolved it quickly.
WooCommerce Memberships
WooCommerce Memberships is an extension of the WooCommerce e-commerce plugin. It allows you to create membership plans and restrict access to certain content on your website. This plugin can create a membership site where users pay a fee to access certain content or features. When combined with WooCommerce Subscriptions, this plugin can create memberships that reoccur monthly or annually (or whatever other payment plan you need).
I often use WooCommerce Memberships on sites that require selling individual items in addition to memberships. For example, if I need a membership but want to also sell tickets to individual events, t-shirts, or support bookings, I'll use WooCommerce Memberships. For some of those product types, the plugins I use to support them only work with WooCommerce, and won't work with MemberPress. Plus, if I use WooCommerce for all my sales, I have one system tracking everything. I also like to use FunnelKit to create my sales pages, which currently only works with WooCommerce.
Plugin type: WooCommerce Memberships is a content-restriction plugin.
Ease of use: WooCommerce Memberships can be tricky to set up, partly because it also requires setting up WooCommerce. If you want to also add subscription payments (monthly, annual, etc…) for your memberships, you will also need to use WooCommerce Payments or install WooCommerce Subscriptions.
Cost: WooCommerce is free, but the WooCommerce Memberships extension is currently $199 per year. If you plan to also use WooCommerce Subscriptions, that is an additional $239 per year. You don't need WooCommerce Subscriptions if you use WooCommerce Payments as your payment processor. The Automattic team has a document that outlines the differences between WooCommerce Subscriptions and WooCommerce Payments, so make sure you read that.
Features: WooCommerce Memberships is another content-restriction plugin, so as with MemberPress, its features are geared toward that.

Payment options: Since WooCommerce Memberships is a WooCommerce extension, you can use any payment gateways supported by WooCommerce.
Content restriction: You can protect your content with WooCommerce Memberships. As with MemberPress, you can apply members-only access to a variety of content. However, if you have multiple membership levels, this can get a little tricky to manage.
Membership levels: You can set up multiple pricing tiers with WooCommerce Memberships.
Additional features: WooCommerce is the most widely used e-commerce plugin in the WordPress community, with many extensions and integrations. I often combine WooCommerce Memberships with LearnDash (for courses), Bookings (for paid support), and The Events Calendar (for individual events).

Support: WooCommerce is an Automattic product, but WooCommerce Memberships is from SkyVerge. I have never had any trouble getting support when I needed it.
BuddyPress
BuddyPress is a free plugin that lets you create a social network for your WordPress site. With BuddyPress, you can create profiles, activity streams, user groups, private messaging, and more. It integrates with WordPress seamlessly, so you can use your existing theme and plugins. It also integrates with plugins like MemberPress and WooCommerce Memberships, so you can restrict access to the social network to your members.
Plugin type: BuddyPress adds community engagement features to your website (see features).
Ease of use: While it's pretty easy to get started with BuddyPress, managing the community can take a lot of time. If you have experience running a Facebook group or something similar, you should be able to run a BuddyPress installation.
Cost: It's free! There are several extensions you can use that are premium, but you'll need to do some research to figure out what you need.
Features: BuddyPress can create a robust community within your WordPress website. Instead of sending your members to a Facebook group, they can communicate directly on the website. Here are some features:

User profiles: Create custom user profiles with avatars, bios, and more.
Activity streams: Members can post updates, share links, and comment on other posts.
User groups: Members can join or create groups based on their interests.
Private messaging: Members can send private messages to each other.
Notifications: Members will receive notifications when someone comments on their posts or sends them a message.

Support: It's free and community-supported. If you check the community support forum, you'll see that sometimes issues don't get answered, so you might be on your own.
If BuddyPress looks like something you might use, but you want better support, you might want to consider using BuddyBoss Platform instead. It's based on BuddyPress and bbPress (see below), and has a lot of the same features of both. The base platform is free, but they also offer premium upgrades with more features and faster support. BuddyBoss also has a great theme that's optimized for communities.
bbPress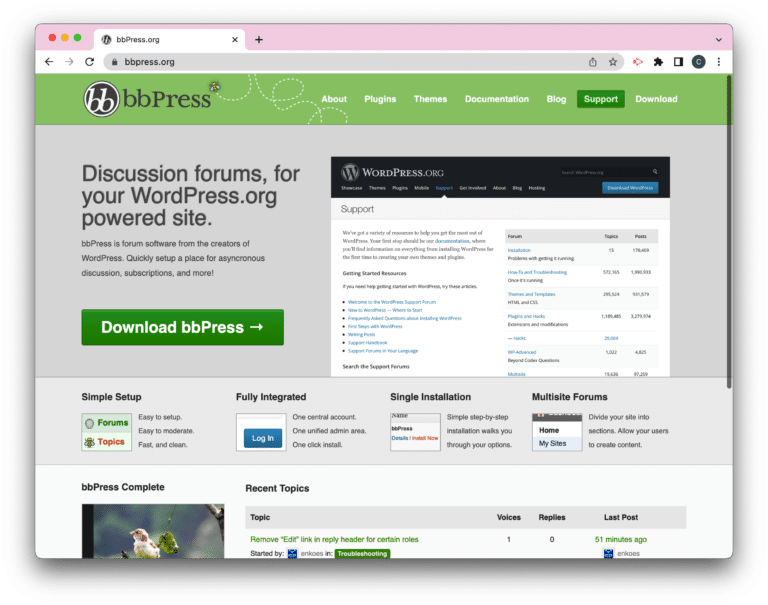 bbPress is another free plugin. If you have ever used the support at WordPress.org, you have used bbPress. With bbPress, you can create forums, topics, and replies. It integrates with BuddyPress, MemberPress, WooCommerce Memberships, and many other plugins to allow you to combine features.
Plugin type: bbPress is a forum plugin.
Ease of use: As with BuddyPress, bbPress is easy to start, but it can take a lot of time to moderate the forums for a very active website.
Cost: It's totally free!
Features: bbPress lets you create discussion areas on your website. Here are some features:

Forums: Create forums for your members to discuss topics.
Topics: Members can create topics within forums.
Replies: Members can reply to topics and other replies.
Moderation: You can moderate forums and topics to keep them clean and on-topic.
Notifications: Members will receive notifications when someone replies to their topics or replies.

Support: As with BuddyPress, it's free and community-supported. And like BuddyPress, it can sometimes take a while to get help.
If you are thinking about using bbPress, you should also BuddyBoss Platform. As I mentioned previously, BuddyBoss has features from both BuddyPress and bbPress, so it might do what you need with the added bonus of faster (premium) support and an integrated theme.
LearnDash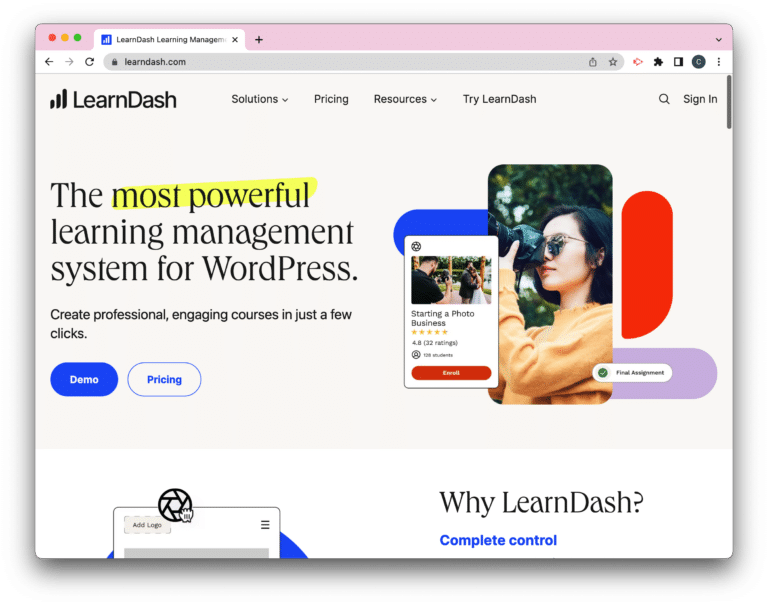 LearnDash is a robust learning management system plugin for WordPress. If you're thinking about adding courses to your WordPress website, this plugin should be at or near the top of your list, and I say this as someone working on a Master's in Learning Design and Technology! It has many features that make it competitive with standalone learning management systems. And the best part is that it integrates nicely with content-restriction plugins like MemberPress and WooCommerce Memberships.
Plugin type: LearnDash is a learning management system.
Ease of use: I'm not going to lie; it has a bit of a learning curve, but I think it's worth it. If you are considering LearnDash, make sure you're comfortable with tech or have someone on speed dial who can help you.
Cost: It's a premium plugin. For a single website, a license is currently $199 per year.
Features: LearnDash lets you create courses for your website.

Course Builder: This is probably my favorite feature. LearnDash has a drag-and-drop course builder that lets you quickly add lessons, topics, and quizzes to a course.
E-commerce: You can sell courses and subscriptions without any integrations, but I usually use the WooCommrce or MemberPress integrations to handle this.
Quizzes: If you want to test your members' knowledge, you can add quizzes to your courses.
Assignments: Members can submit their work to you for review.
Add-ons: There are several add-ons (some included, some cost extra) that allow you to add functionality like a grade book, certificates, and notifications.
Integrations: LearnDash integrates with a bunch of other plugins. For example, you can sell access to individual or groups of courses with WooCommerce. You can add gamification to your website with GamiPress. You can give access to a course when someone is added to your mailing list with WPFusion.

Support: As with BuddyPress, it's free and community-supported. And like BuddyPress, it can sometimes take a while to get help.
So Which Ones Should You Use?
The plugins you use for your membership site will depend on several factors. I recommend writing down all of the features you want for your website and then comparing them to the features available for each plugin. Keep in mind the cost and support. If you need help figuring out the best plugins for your membership site, contact us so we can help.