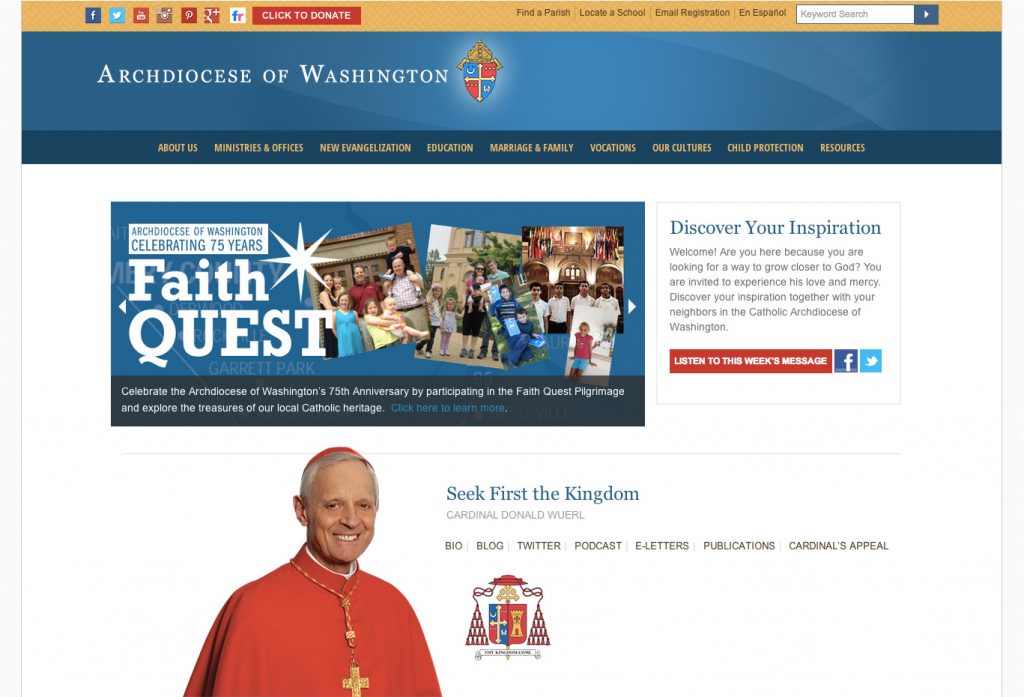 Visit site
A Collaborative Endeavor:
Building Together with the Archdiocese of Washington
Features: Design, Custom Theme, Functional Development with SmartSimian Creator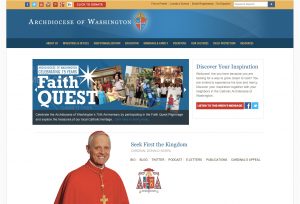 Within 12 short weeks, the people of Pongos Interactive and the Archdiocese of Washington (ADW) collaboratively transformed ADW's web presence into an accurate reflection of ADW's community centered real-world presence.
ADW's new site features an engaging design (thank you to long-term Pongos design partner, 6712 Creative) and interactive content delivery displays.  ADW site visitors can now get to information that matters most – mass schedules, prayer requests, and the latest school, news and event information.
Highlights
Theology on Tap Podcast Directory
Pongos staff began the re-development process by streamlining content access, putting popular information into dynamic content displays – searches, libraries, and lists.    The dynamic delivery displays created a user-friendly front side experience and allow for quick and easy one-screen administrative content management.
The Pongos-built ADW theme is highly 'widgetized', allowing entire blocks of content to be swapped out as content priorities cycle throughout the year.
A key project requirement was for Pongos to provide ADW's small but very talented web staff with the tools and training to maintain and extend the site's functionality.    With the Pongos-provided SmartSimian Creator Plugin Suite and knowledge gleaned from two half-day workshops, the ADW staff now quickly and easily configures "in-site applications" as their site needs evolve.
The SmartSimian Creator Suite allows clever primates to build just about any dynamic content delivery system once could ever need!  Libraries, directories, event calendars, image sliders, submission modules, judging modules, media centers…limitless possibilities!
The project was delivered on time and under budget.  Thank you very much to Sarah and Lisa, our wonder clients at the Archdiocese of Washington!