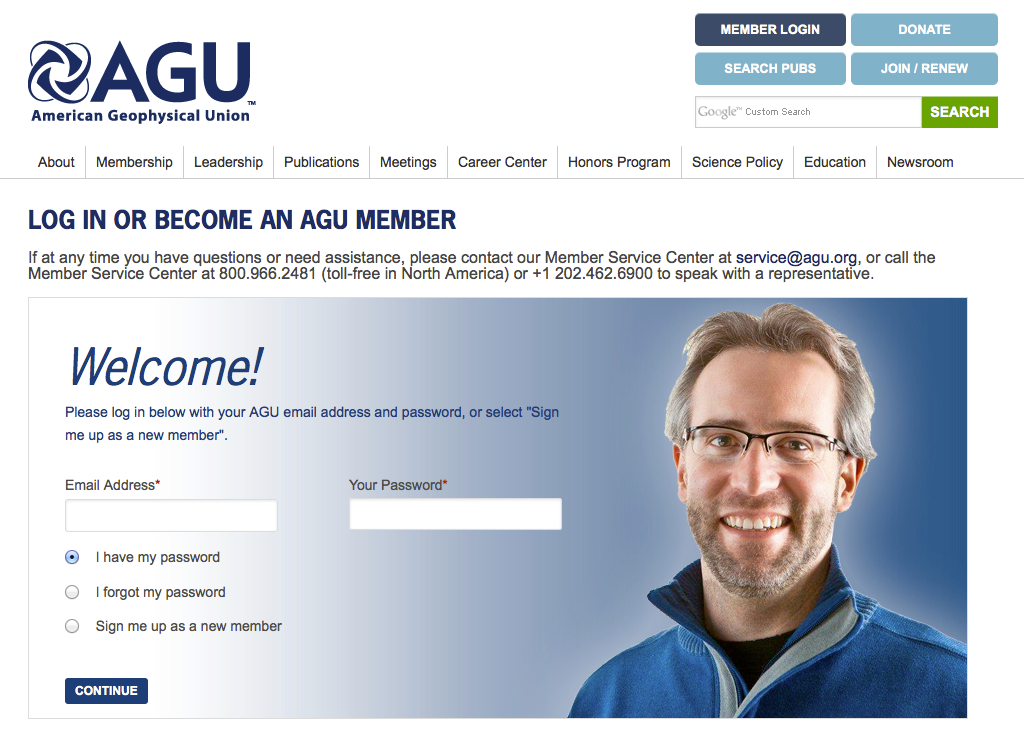 AGU WordPress/netFORUM Integration
Congratulations to American Geophysical Union on its beautiful, new Membership Join/Renew & Stand Alone Donations functionality!
And congratulations to all Avectra netFORUM Enterprise and Pro users!  With Pongos' Smart Simian Creator and Big Purple Integration plugin suites, WordPress as a CMS can be fully integrated with netFORUM Enterprise!
Collaborative Trailblazing
What did it take to innovate so successfully?  Enthusiastic collaboration.  Hard work, grit, clever wits and patience came into play, but it was the stellar level of cooperation between AGU, Avectra, Pongos and Cooper Consulting that made the project an overwhelming success.
Boundless thanks to our stalwart and trailblazing clients at AGU – especially Kerry Mickelson, Director, Information Services, Karine Blaufuss, Business Intelligence and AMS Manager,  and Jennifer Zentgraf, AMS Services Specialist!  Without Ben Muscolino and Mehdi Marhoum at Avectra, netFORUM and Big Purple would not play together so nicely.  Cooper Consulting's Diane Traynor's vast knowledge of netFORUM produced clear and concise functional requirements, the foundation of project success!
Membership Join/Renew
The best way to experience the Member Join/Renew process is to become an AGU member, or make a donation to AGU.  Need the short version?  Videos tours are below:
New members set up their personal profiles, select their national and section/focus group (chapter) memberships, answer "about me" questions, and have the option to make a charitable donation before paying dues.  After joining, new members are welcomed to the association at their personalized "My AGU" self-service dashboard.
Existing AGU members quickly renew their previous year's national, section/focus group (chapter) memberships, and online subscription with a few quick clicks.Before checking out, renewing members have the opportunity to make a donation and answer demographic questions.  Members who wish to modify their previous year choices are routed back through the full join process.  Members now use their self-serve dashboard to manage their profiles, memberships, subscriptions, and access other single sign on integrated applications.
Stand Alone Donations
In this lovely piece of programming the SmartSimian Creator Suite was used to make images and descriptions easily editable by the WordPress Administrator.  Big Purple does the talking to netFORUM, and all funds are correctly accounted for.  Make a Donation to AGU!
Single Sign On Token Pass Through
AGU members who would like to register for AGU's Fall Meeting, or update submitted abstract information, login on AGU's Fall Meeting site, have their membership credentials confirmed in netFORUM, then "tossed over the fence" all logged and validated to a third-party event registration or abstract management site.
Download and Configure Big Purple
Big Purple Base and Developer plugins are available for free in the WordPress Plugin repository.  The Base plugin within handles basic connectivity to the xWeb(tm) service and contains global settings and a scalable settings framework for your custom application needs. The Developer plugin displays connection details and provides method and data object technical information for developers wishing to develop their own user interfaces.
Want to learn what Pongos can do for you?  Contact us, and we'll be happy to give you a tour.